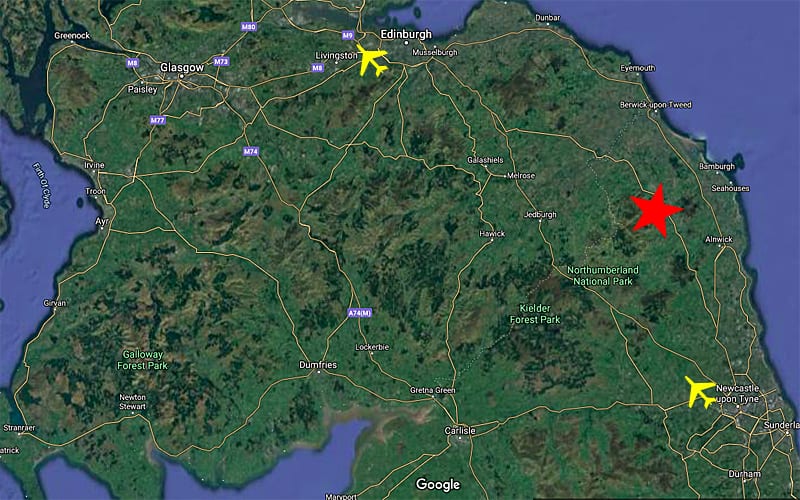 Wooler may seem just like an ordinary country market town, but it is so much more. Wide open spaces and stunning hill views on the doorstep. Friendly people. Independent shops. Easy (and scenic) routes to the Northumberland coast. Visit and see why we love it!
Wooler lies in a sweet spot on the border of Northumberland National Park, and on the doorstep of beautiful hills and valleys. There are some lovely woodland and riverside walks too. And it's only 30 minutes from the coast. It has great links via the A697 main road to larger towns and cities, including up into the Scottish Borders and beyond. In our view, it's the perfect base camp location for visiting north Northumberland's finest sights.
Wooler: Gateway to the Cheviots
Wooler is the hub of the Glendale Valley. It nestles at the foot of the hills that gradually rise up to The Cheviot. At 815m, The Cheviot is the highest point in Northumberland National Park. Possibly the boggiest too, but we can't hold that against such a beautiful hill. Wooler provides an access point to the Cheviot hills and the many peaceful walks and stunning views they offer. Well-known long-distance route the Pennine Way takes in the Cheviot, and St Cuthbert's Way passes through Wooler itself.
"We walk all day on long ridges, enough to give far views of moor and valley, and the sense of solitude below. It is the land of the far horizons." G.M. Trevelyan
The Cheviot Hills
Wooler is a town of hill-lovers. People walk, run, and bike in the Cheviots and feel very attached to them. There is also a lot to be said for just sitting still and enjoying the views. The hillsides are full of interest. There are important habitats on the higher hills, deep valleys of rushing water, wooded ravines, ancient forts and prehistoric rock art.
If you are fit, it's perfectly possible to walk out from Wooler up over the open hills to the top of Cheviot and back again in a day. (Don't forget to buy your sandwiches and other goodies at the local shops before you set off). Otherwise, you can drive from Wooler into the lovely Harthope Valley, which will take you a bit closer to the target. It's around 5km from the roadside at Langleeford to the summit.
For the fittest, there is a well-known annual hill run which takes in the Cheviot and its closest, slightly lower neighbour, Hedgehope (714m). The Chevy Chase is 32km of tough fell-running and draws a fair crowd of participants. There are a number of other official trail-runs that take in the hills around Wooler, including the 50km McWilliams Round and the hardcore Cheviot Goat. But don't worry if you don't fancy running (and tumbling) over mounds of heather and tussocky grass. There are some lovely gentle walks around Wooler too.
Walks Close to Wooler
The local bookshops and stationers sell guides to hidden gem routes around Wooler. We have a couple of favourite circuits ourselves. For the first, stroll up Cheviot Street and continue along a scenic road to reach the pretty hamlet of Earle. From here, your options include a circular route of around 5km back to Wooler, admiring the scenery and Last of the Summer Wine feel to your surroundings. You can venture further, to the wooded seclusion of Happy Valley (it is well-named, being peaceful, beautiful and fab for wild-swimming), or break off on various tracks and paths that gravitate north east towards Wooler Common, and onto the open hills.
We also love the area around Humbleton Hill, from the top of which you can see right to the coast. Climb the steep path to the summit cairn, or enjoy an easier path from the north west side of the hill. The Duckponds are also a lovely spot for a family picnic and stroll. If you're quiet and lucky, you may see red squirrels and roe deer (they are there, we've seen them!) as well as birds and resident ducks.
Enjoy the Great Outdoors
Aside from walking, Wooler is a brilliant location for taking part in a range of outdoor activities.
Cycling Around Wooler
Biking the roads and quiet trails around Wooler gives you a great sense of space and freedom. We offer a bike rack, if you want to bring your MTB or road bike (or cyclocross, or gravel bike…). Take on some hills and enjoy gasping in lungfuls of the fresh air. Or just relax, ride at your leisure and absorb the landscapes and local history of the area.
There are local cyclo sportives every year if you want to time your visit to take part. Test your ability with some challenging climbs, or have a go at a shorter distance if you're just up for a fun day out on the bike. Either way, you will experience quiet roads, beautiful scenery and views. Guided leisure rides also take place on weekends. Find out more about cycling in Wooler.
Other Activities
You've walked, hiked, trail-run, and biked your way around Wooler and its hills. If you're still not satisfied, there are many more outdoorsy ways to spend your time here! Local providers such as Active 4 Seasons offer canoeing, river kayaking and rock-climbing close to Wooler. You can bird-watch – the sight and sound of curlews and pee-wit lapwings on the hills in springtime is particularly beautiful. You can even take to the skies yourself at the local gliding club, for an aerial view of the Cheviots. And if you're holidaying with children, they would love to watch the gliders and aeroplanes taking off at the airfield, which is 5 miles north west of Wooler.
Around the Town
Wooler High Street has a number of independent shops and cafes. Wander down the street and you can find lots to amuse you. Discover books on the local history and area, a vintage sweet shop, boutiques selling antiques, jewellery and art, and renowned delicatessen, The Good Life Shop. Sample some of the local produce, which includes home-baking, cheeses and ice creams from nearby Doddington dairy and locally produced beers and gin. There is also a monthly Farmers' Market. You can also pick up a take away coffee, or sit outside a café and relax a while.
The Milk Bar is a deservedly popular refreshment stop. Run by Doddington Dairy, their ice cream and milkshakes are a delicious treat. Top quality home baking, breakfasts and lunches are also available. Outdoor seating is provided, or you can wander to picnic tables at the riverside. There are also some lovely take away options by the riverside, including The Perfect Shot coffee bar, fish and chips and wood-fired pizzas.
More Information
Lots of other information about good food, events and attractions in Wooler and its surrounds can be found in the Cheviot Centre. Or visit the local community website.
Campsites in Wooler
If you are considering booking our camper van, it's worth knowing there are two campsites in Wooler. The Riverside, on the banks of the Wooler Water, has many facilities, including a heated leisure pool. Highburn House at the foot of Humbleton Hill is a quieter spot. It's worth considering either of these as a nearby stop for your first night after collecting the van. That way, you can relax and enjoy an evening meal and a drink while the sun sets behind the hills. Maybe even a barbeque! Then enjoy the tranquility of a night under dark skies and stars.