Boutique Home Away from Home
A campervan holiday in the California Ocean 6.1 feels like a holiday at home. However far you travel, you can relax, knowing that all the comforts of home are right there at your journey's end.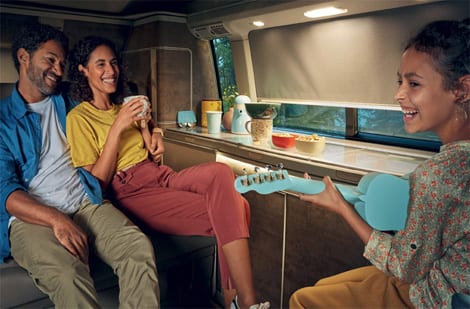 Enjoy a holiday at home in the California. Your lounge and dining area are easily configured: just slide the passenger bench and swivel the comfy front seats. The electro-hydraulic elevating roof can be raised via touchscreen. Set the ambient LED lighting, pour yourself a glass of something chilled and wind down for the evening in your own private living space.
Whatever view you've chosen at the end of a long drive, the California's comfortable interior is also a sight for tired eyes. Neatly contained within the main living space is a two-burner gas hob, sink and 42 litre compact fridge, along with storage cupboards in elegant slate grey. There is also a small wardrobe and plenty of drawer space.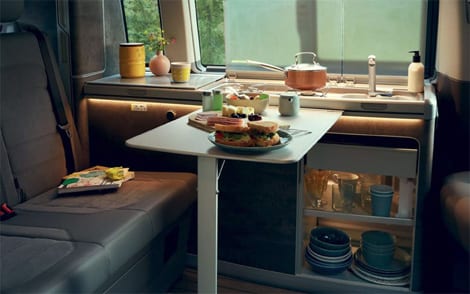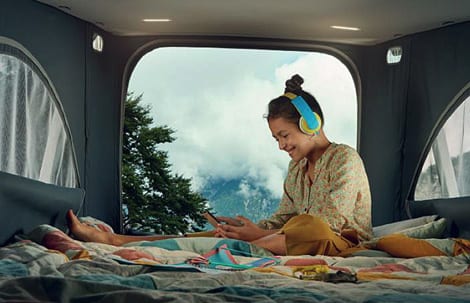 Every aspect of your home from home is beautifully designed, with a soft, fully sprung loft bed upstairs, and a downstairs double with bed extension and comfort mattress for a better night's sleep. If little ones are sleeping up top, (they'll probably insist!) a child safety net is available (see Extras).
You will be surprisingly snug even in winter with the excellent central heating system (and we have tested the VW California's heating in the Scottish Highlands in snow!) Window blinds and the dark roof fabric create a cosy feeling for a good night's sleep.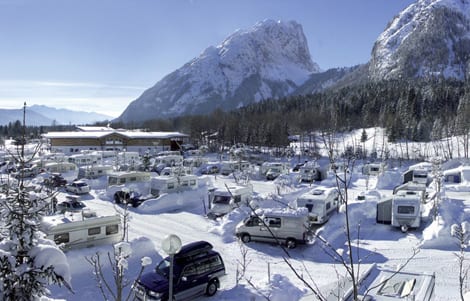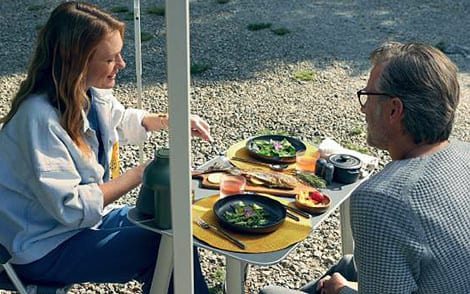 This cool van's versatility allows total flexibility for hassle-free convenience stops and unforeseen events. Busy traffic? – Relax – just pull over in the California Ocean, put the kettle on and chill out in the lounge area with a brew and a good magazine.
Your hire includes all the kitchen equipment you need to be self-sufficient. And we've specially selected and packed it to minimise rattles on the road. Not only that, the California Ocean comes with lots of camping features such as two additional leisure batteries, aluminium camping chairs & table and outside shower. All of which makes life in the wild outdoors a little easier.