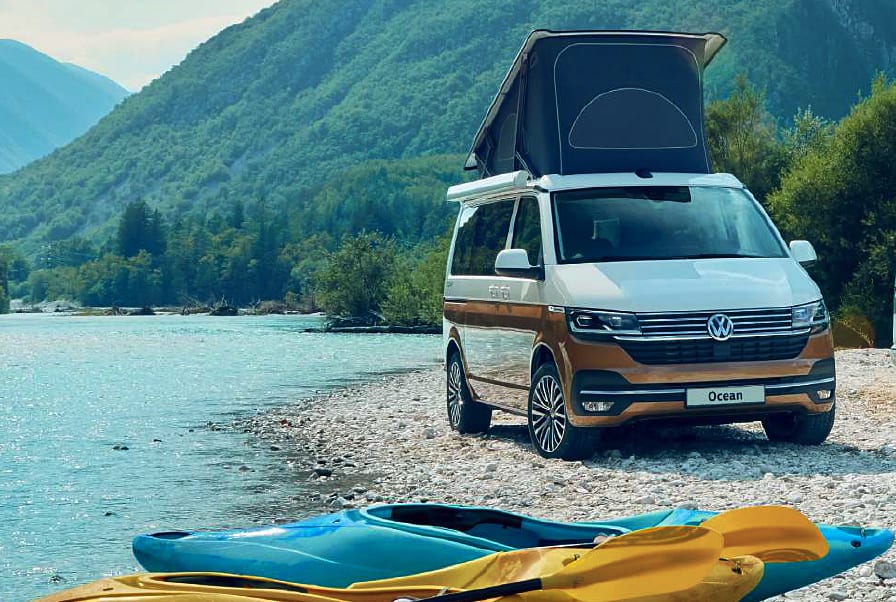 Destination? Anywhere! A campervan holiday is a great choice if you love the freedom of independent adventures.
We've spent decades working in the outdoors and have real enthusiasm for holidays where our time is mostly spent in the fresh air and the sense of freedom that brings. We've looked after and camped with groups in the Scottish Highlands and the Arctic regions in all weathers, including -40°C in the snow. Now and again, we crave a little more comfort than canvas. Off duty, we've stayed in posh hotels and cosy B&Bs. We've youth-hostelled our way around the UK and self-catered in wonderful spots. But for us, a few days away in the campervan ticks all the right boxes. You can have all the freedom of a holiday in the great outdoors, with a dash of luxury thrown in.
Enjoying Spontaneity
On a sunny September trip to the Isle of Harris, we had the notion of spending our first night at a campsite on the east of the island. Arriving off the ferry we chose to have a scenic drive that led us instead to Horgabost on the west. It's a very basic, but wild and beautiful site, with a sea breeze firm enough to drive off any late-season midges. We pitched up to watch an unforgettable glowing sunset from the beach.
This enjoyable spontaneity gives a campervan holiday the quality of an adventure. You can travel to somewhere different every day, if you like. If sudden bad weather is forecast, it might be possible to dodge it by heading an hour in a different direction. The type of places you can go in a campervan (less crowded, more scenic) and what you can do (less sedentary, more active) all lend themselves to the feeling of adventure.
Freedom from Predictability
Getting away for a campervan holiday means quitting time-bound tasks and the monotony of the daily grind. What we especially love though, is that a road trip only requires you to grab your gear and drive off into the unknown.
Unlike a package holiday, for example, (even the most adventurous, far-flung variety) there is no pre-planned itinerary with a campervan trip. And, instead of being stuck in one spot at a hotel, or cottage, you have the means to go anywhere, at any time, yet always have the comforts of home to hand. This turns your trip into an exploration: Where to go! What to do! Half the fun of an adventure is that not-knowing opens up possibilities – and fires your imagination.
Dream up ideas of where to go and what to do. Pour over maps to find hills to climb, islands to visit, beaches to comb or rivers to paddle. Creating some holiday objectives is exciting – like setting off on a quest for buried treasure. Then again, there is also freedom in the unpredictability of not planning at all. Just set off and see where you end up!
Freedom from Stuff
The VW California 6.1 is a compact campervan. It has great storage, even a mini wardrobe, but it's never going to provide the space you have at home. This is a very good thing, because it limits how much stuff you take on holiday. And less stuff is more relaxing.
Travelling light with the bare essentials means you don't waste time shifting things around the van to find what you need. Or falling over someone else's stuff. When you take less, it can be organised more easily in the van – leaving you free to spend more time enjoying yourself. And who cares if you've worn the same t-shirt three days in a row?
Freedom from stuff includes, for us, screens. TVs and tablets seem to lose their allure when you've got fantastic views of nature and the countryside. Screens easily drain hours of your time on unsatisfying browsing. Instead, enjoy relaxing with a good book under the wind-out awning. Or sit wrapped up having a brew, while birds sing and twilight falls.
While there is always the reassurance of technology in the van, fewer toys and less screen-time doesn't have to mean boredom for kids. As well as running around enjoying the wide open spaces, we notice Ailsa will spend ages putting stones into a puddle, or collecting leaves. There can be interest in the smallest things.
The van itself is fascinating for kids. A miniature house of great comfort, with its little self-contained kitchen, pop-up roof and loft bed. Wherever your destination, they will love running freely in their huge open air playground, before returning to the van for tea.
Escaping the Crowds
Sadly, a difficult year has seen everyone wondering how to find some freedom again – and to spend time where there are less people around.
For us the campervan answers both these questions. It can take you from busy, crowded places, to find space and relaxation outdoors in nature. And, it offers reassuring independence and self-reliance. You can minimise contact with others to the extent you're comfortable with. At the same time, you're not limited to one spot, unlike, for example, being fixed at a self-catering property.
The campervan can take you away to quieter spots, but you can also travel closer to friends and family, for much needed quality time together. You also have your own facilities on board, which makes it easier to meet up with loved ones.
Freedom from Excess
Before we sound too puritanical, let's just say – we love three course dinners and bottles of wine on campervan holidays. The point is – we can enjoy them even more because we've usually spent all day in the fresh air doing a bit of exercise.
In a posh hotel or on an all-inclusive holiday, the excesses of delicious food and wine are so tempting. It's too easy to return home with a few extra pounds having snuck onto your waistline. Whereas, with a campervan holiday, all the outdoor activities mean you can enjoy a hearty meal guilt-free. Plus, everything tastes so much better when you've worked up a real appetite being outside all day.
For us, time away in the van is the perfect level of comfort. Not too cosseted, with enough edge to satisfy our appetites for adventure. Yet offering the comforts of home that seem so much brighter and more welcoming after a day on the hill.
Appreciating the Simple Things
Rather than consuming to excess, revelling in life's simple pleasures with a campervan holiday is freeing. Somehow, being outside more manages to be relaxing, interesting, pleasantly tiring, fun and enjoyable all at the same time.
And you can enjoy much of this simplicity for free, or at little cost (as well as supporting local economies). After the hire price, costs are minimal in terms of campsite fees, fuel consumption and food.
But spending time in nature, the views, the experience are priceless. The mental, emotional and physical benefits are too. It's been shown that even just looking at green (and blue) spaces has a positive impact on humans. That seems as good a reason as there can be to choose a campervan holiday.
If you're interested in booking our luxurious VW California Ocean 6.1, please drop us a line!