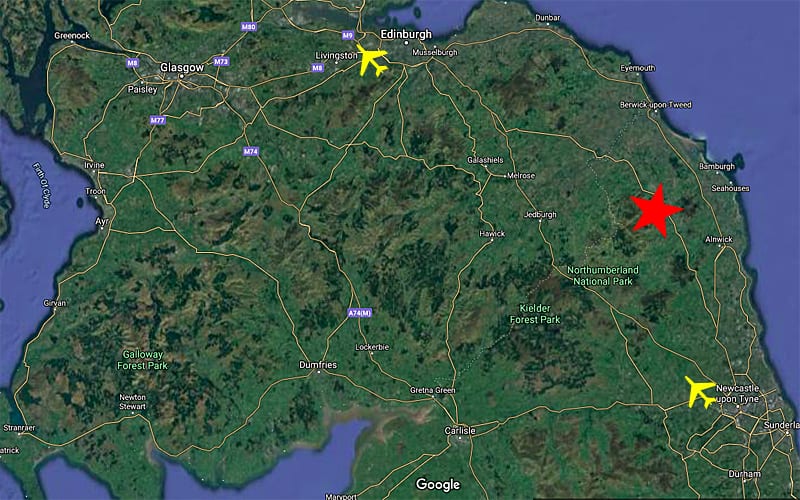 This unmissable Northumbrian beach offers vast skies and empty sands, magical castles and cool, clear blue waters. It's a tonic for the strains and stresses of everyday routine.
Bamburgh Beach
A day on Bamburgh beach is the stuff children's summer holiday dreams are made of. A seemingly endless expanse of pristine sand. Blue-green water, clear as a gemstone, rolling into pure white surf. Rockpools that shelter starfish, small crabs and anemones – like purple boiled sweets, when the tide is out.
There are views across the waves to the clustered Farne Islands. Their black outcrops rise out of the sea like a pod of humpback whales. To the north, the island of Lindisfarne (Holy Island) is magical. Its semi-present causeway appears and disappears with the tide, and even its castle appears to float on the water like an Arthurian mirage.
The jewel in the crown is Bamburgh Castle. This ancient stronghold has presided over the dunes on its Great Whin Sill crag for over 1,400 years. Its sparkling pink sandstone walls are truly a majestic site. Even on rainy days, this place has magic. Perhaps this is why it is believed to be the site of Sir Lancelot's fictious castle, Joyous Garde. Legends, myths, ghost stories and tales of dragons have been told about the castle. A visit will reveal its fascinating history and precious treasures.
Life's a Beach
You can easily spend a full day on Bamburgh beach. Its vast sands mean you never feel crowded, even in the height of summer. There is plenty of space for everyone who wants to build sandcastles, jump waves, paddle, or body-board. Maybe even sun-bathe on Northumberland's balmier days. Relax with a picnic at the edge of the dunes and enjoy people-watching, or wildlife-spotting. The sight of delighted dogs racing each other over compressed waves of wet sand is equally diverting.
Bamburgh is a top North East surfing spot, consistently picking up any available swell onto sandbars. Surfing or kite-surfing, there's a good chance of sharing the waves with grey seals. More restfully, explore the rockpools to the north of the beach, which are next to England's most northerly land-based lighthouse. This part of Bamburgh beach is known as Stag Rocks for the white deer that is painted on the mounds of Whin Sill.
It doesn't even need to be high summer to enjoy Bamburgh beach. Blustering wind or crisp, cold sunlight are both invigorating for a yomp over the sands. Or park up to watch surging breakers and wind-spun sand dancing over the beach from the warmth of the campervan. Its a pleasantly lazy way to appreciate the power of nature, coffee in hand.
Walks around Bamburgh
Walk from the foamy tides over the sand to the dune fringes to reach Bamburgh's vervant cricket and croquet green. This area near the white Pavillion provides a welcome leg stretch, and more shelter on windy days. There is a small children's playground and tennis courts. Over on Bamburgh's main village street, you will find a number of very good cafes, and restaurants with rooms. We particularly like the Potted Lobster and the Lord Crewe Hotel.
With an ice-cream in hand, wander down The Wynding and out to Bamburgh's golf course. It's a scenic route to enjoy sea air and views. Beyond the course lies Budle Point. Descend to its wild, beautiful sands for a lovely alternative to Bamburgh beach. Pass on to Budle Bay's wide expanse of sand and mudflats, teeming with ducks, geese and wading birds. Loop around the coastal path and head inland, returning to Bamburgh via the B1342.
Near Bamburgh: Seahouses & The Farne Islands
Coastal walks in the sea air are guaranteed to give you an appetite, which is lucky, as some fantastic fish and chips are on offer at nearby Seahouses. This small working port is just over three miles from Bamburgh beach. Enjoy your food straight out of the bag in the fresh air, watching the boats by the harbour. Mind out for chip-thieving gulls.
The Farne Islands are the destination for many boats departing the harbour. Children will love journeying over the waves, like pirates searching for buried treasure on far away islands. You can land on the Inner Farne, but our tip is a sunset cruise. Relax to the sounds of the sea, with waves lapping on black rocks, birds calling from the air and crags, the cry of grey seals. Viewed from the islands, Bamburgh beach and the imposing castle look like a fairytale kingdom. And you appreciate why it would be difficult to mount an attack on such a formidable fortress.
When you return to port in Seahouses, enjoy strolling around the town exploring colourful gift shops. Many cheerful souvenirs are on offer. Some are cheap too, but we're not being snobby; it's great fun rummaging for presents for friends and family. And if they didn't find pirate gold on the Farnes, kids are guaranteed to find an abundance of treasures in these stores.
If you don't have great sea legs, instead of visiting the Farnes, you could simply enjoy the amber depths of a Farne Island bitter. Whatever your poison, don't miss the opportunity to tarry a while in the cosy, nautically themed Olde Ship Inn.
Campsites near Bamburgh Beach
There are several campsites offering pitches for campervans, some with facilities, others more basic, but none the worse for being quieter and relaxed. We offer portable loo and shower as extras if you need them when you book your campervan holiday with us.