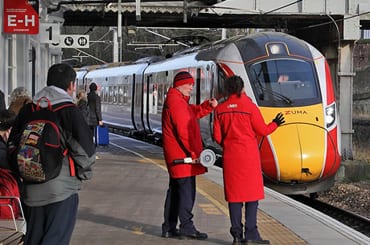 A train journey is a swift yet relaxing way to travel. Sit back, stretch out and wind down, as the world whizzes past your window.
Considering a summer 2021 UK staycation? Swift relaxation is ensured when your holiday starts by train. Our luxury campervan offers an adventurous, yet glamourous home-from-home escape for your staycation holiday. We are located in north Northumberland, close to the Scottish Border and offer a meet and greet service at Berwick-upon-Tweed railway station.
Travelling by rail on your journey to pick up the van is a great way to start your holiday. When you step on the train, you can instantly stretch out and relax. Taking the train also means when you arrive, you'll be refreshed and ready to hit the road to adventure – or at least to your first night's campsite.
Why we love train journeys
A couple of years ago we went camping on the Scilly Isles. With a rucksack each, we got on the train at Berwick-upon-Tweed's picturesque station and woke up next morning in Penzance, ready to sail to the islands. Even changing trains in London was enjoyable. We met up with old friends for an early dinner before catching the sleeper service. Travelling by train was exciting, and we immediately relaxed into holiday mode. Chatting, reading, having lunch and drinks, looking at the landscape and people-watching at stations. It was as enjoyable as the holiday-proper, island-hopping with our tiny tent during a baking hot week on the Scillies. Most of all, it was completely unhurried.
Here are some of the things we loved about starting a holiday by train:
Slowing down to get the holiday vibe faster
Travelling by train enables you to enjoy being on holiday immediately. Simply stretch out and watch the landscape unfold around you. Preferably with a chilled gin and tonic in hand. All you have to do is happily anticipate arriving at your destination.
Simplicity and speed
One of the things that makes rail travel feel leisurely, is its simplicity. You just turn up with ticket and bag, then board and off you go. You can make swift progress, yet without feeling rushed.
The view from the train
Train journeys provide interest from the get-go. Your view changes minute by minute. In the UK, especially, the variation in scenery is enough to quietly occupy your mind for the entire journey. The changing landscapes suggest the passage of county boundaries, different ecosystems from forests to hills to beach or farmland. You might even notice the weather changing, thermometers shifting, as you travel west to east, or south to north.
A gentler pace
Railway journeys have a certain nostalgia. They feel like time-travelling to a more peaceful era. There might not be an old-fashioned porter to put your luggage on a trolley, but there are still whistles and calls from the guards. The conductors usually have a cheerful word as they pass through to check your ticket. And there's all the excitement of the lurch as you head out of a station and into open countryside. All this makes for a relaxed, optimistic and even a slightly romantic feel to the beginning of your holiday story. It turns it into something of an adventure. We're all for that when we go on holiday.
Refreshments on tap
You can sit at your ease, waiting for the refreshment trolley to clink and rattle promisingly towards you. Or enjoy the wobbly stroll to the buffet. You might even choose an unhurried lunch in the dining car – very evocative of less frantic eras than our own. We also like bringing supplies (habits of a lifetime) and enjoying the countryside views over a table-top picnic.
Children love train travel
The fact you can get up and walk around also makes train journeys very child-friendly. Children will love being able to move and stretch their legs. They will definitely love a bit of train-surfing. And there are lots of options for "I spy" out of the train window.
Thinking time
Train journeys can be meditative. They can also fire your imagination. All that time gazing through the window, letting your thoughts wander. You can think your most creative thoughts on a long train journey. Just look at J.K. Rowling.
Enjoy the journey
The enjoyment of a relaxed mode of travel by train chimes with the easy approach to life you can take in a campervan holiday. Once you're in the van, your accommodation is with you, it's a comfortable home on wheels. So there are no worries about getting anywhere on time, you can relax and chill out. And it's so compact that you can head off the beaten track to wilder destinations. Enjoy exploring and enjoy the journey.