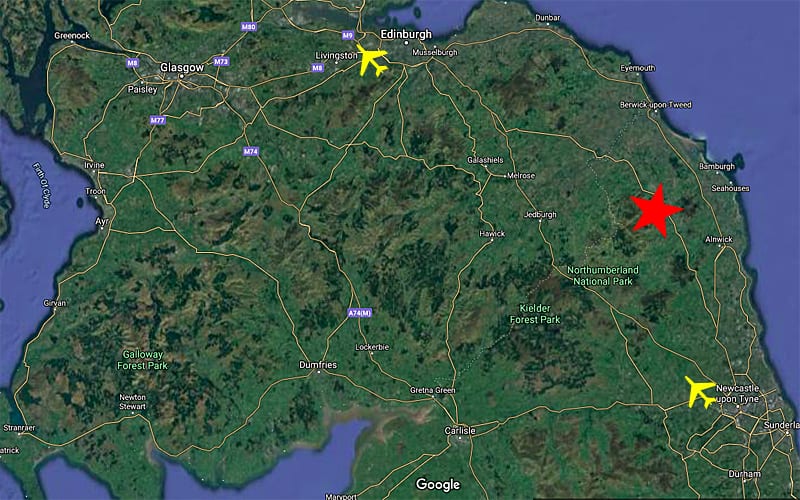 "Alnwick is ever under the spell of the dreamy past" [19th century quote, featured in Slow Travel Northumberland by Gemma Hall]
Alnwick is full of magical experiences – and we're not just talking about the Harry Potter connection. The cobbled streets, sandstone buildings and historic towers of this pretty market town will charm you. It's like having a day out in the past. You might need to time-travel to fit in everything Alnwick has to offer. Don't miss a trip to enchanting Alnwick Garden. And lose yourself in a fairy-tale – courtesy of Barter Books' fascinating emporium.
Alnwick Castle
Undoubtedly, Alnwick Castle is a fantastic family day out. Harry Potter merchandise and broomstick lessons will delight the young (and the young at heart). The stream of summer events and the triumph of recognising memorable film scenes are definite attractions (and not just HP – there have been many productions on location since the 1970s). Yet there is much more to explore within this magnificent stronghold.
Seat of the Percy family since 13th century Norman times, the castle is a truly ancient fortress. In fact, the oldest sections date to 10th century, before the Percys took up residence. It is the largest inhabited medieval castle in Britain, as the residence of the Duke and Duchess of Northumberland. It's also the second-largest inhabited castle overall, (trumped by the Queen, with Windsor Castle).
In the grounds, the castle's splendid architecture is apparent from every angle. The intimidating Barbican might provoke a shiver, with its life-like roof-top statues poised to throw boiling oil over intruders. The armoured walls provide more peaceful views to the north, over serene landscapes designed by Lancelot 'Capability' Brown. Inside the castle, the gorgeous State Rooms are filled with historic treasures. Spend time appreciating the beautiful Baroque and Regency furniture, Old Master paintings, fine porcelain before you depart.
The Alnwick Garden
This wonderful garden is a creation of the Duchess of Northumberland and promises sensual horticultural delights. Its 12 acre site is also designed to offer something for everyone. It's very accessible, and a fantastic location for family fun and picnics in summertime. Storytellers and imaginary creatures are often to be found in surprising places around the garden. It also offers the relaxing havens of ornamental gardens, some restful quiet corners, and a vast cherry orchard. You can even doze off on one of the many wooden swings.
Even when roses have faded and blossoms fallen, you can still appreciate a day lost in this green oasis. Admire the autumn colours and spectacular splashing of the 'Grand Cascade' waterfall. Visit the infamous Poison Garden, or enjoy the magic of the annual Christmas light trail.
If the flowers and water features aren't enough incentive, you might consider visiting to support this registered charity's inclusive vision. Great effort is made to enable younger, elderly and the most vulnerable members of the community into the garden for educational, health and well-being reasons.
Before you leave, visit The Treehouse restaurant – straight out of a fairy story, it sits high in the canopy of lime trees. Delicious lunches and afternoon teas are served – booking is essential.
Barter Books
"The British Library of second-hand bookshops" [The New Statesman]
This absorbing cornucopia offers a vast selection of vintage books and records, housed in a converted Victorian railway station. Don't imagine just some dusty second-hand paperbacks, brown and curling at the edges. This is a bookworm's paradise – orderly, catalogued, extensive, filled with artworks and poetic texts. Even if you are not much of a reader, it's worth your time, just to enjoy the atmosphere.
On rainy days, it's a particularly appealing spot. Enjoy a coffee, bacon sarnie, or lunch in the station buffet. Or pick a cosy armchair and curl up in front of the open fire with whichever book you choose. There is an entire section devoted to children's books and toys – enough diversion for you to explore in peace for a while.
Aside from the interest of exploring the impressive book collection – including some very valuable first editions – there are other features of note. These include the vast Famous Writers Mural, colourful light tubes displayed in Art Deco style, and the model railway running atop the bookshelves.
Hulne Park
A former medieval hunting ground for the Percy family, Hulne Park today offers peaceful pursuits for the general public.
The acres of walled wood pasture and farmland are the product of landscape designs by Capability Brown for the 1st Duke of Northumberland in the late 18th century.
Architectural interest, (observation only, no access), includes the ruins of Hulne Priory, founded by the 'Whitefriars' in 1240, and Brizlee Tower. The latter is an elaborate folly in Gothic revival style.
Access to the park on foot is permitted by Northumberland Estates, so you can walk or run around the 15 miles of marked trails. Be aware there are no facilities, so take some kind of sustenance, or book a table at one of Alnwick's many eateries.
Other Attractions & Facilities
Other attractions include the Bailiffgate Museum, the Playhouse theatre, Aln Valley Railway and Willowburn Leisure Centre with lovely 25m and childrens' pools.
There is a dedicated tourist information website, where you can find out more about this lively, medieval market town.
Stay at one of the number of campsites close to Alnwick. One of the closest is Dunstan Hill. A fifteen minute drive will take you to this beautiful coastal site. You will receive a 30% discount on site fees through the Camping and Caravanning Club Privilege Scheme when you book your camper van hire with us.
Alternatively, Greensfield Moor Caravan Site is located in Alnwick. It is a relaxing and peaceful site – though basic. You may wish to hire our handy portable bathroom facilities! See our Extras page for details.