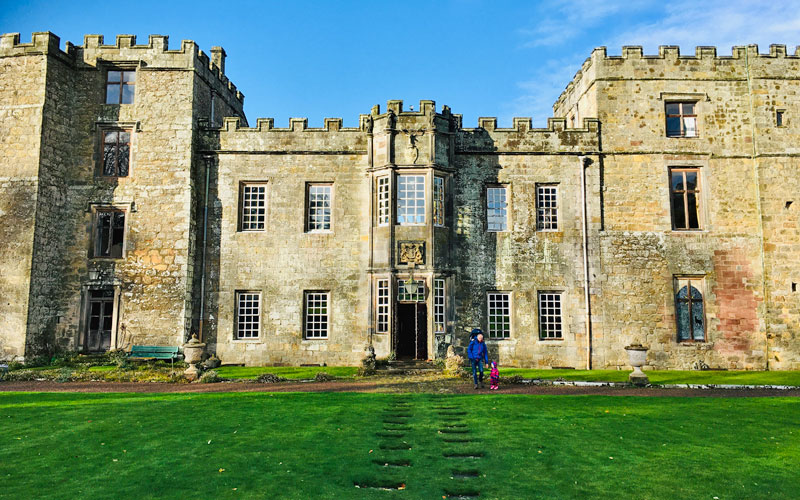 Quiet and picturesque, Glendale is a secret gem of natural beauty in north Northumberland. Escape the crowds and enjoy relaxed camper van touring in this little-known area.
Follow the River Till as it gracefully winds through pretty Glendale. Relax and enjoy views from the van, or take advantage of the many cycling and walking routes. You will be rewarded with picture-postcard villages, interesting attractions, and delicious refreshment stops.
Southern Glendale Valley
Chillingham: An Ancient Estate
Chillingham estate dates to the 13th century and its castle purports to be "Britain's most haunted". You may feel it is aptly named. Its torture chamber and austere architecture, combined with the odd collection of objects on display in every one of its dusty and medievally furnished rooms, certainly feel eerie. Surprisingly, unlike in other stately homes open to the public, you are allowed to handle and inspect most of the items and collections on display.
Not only is this ancient fortress fascinating, it has one of the best tearoom settings in Northumberland. Enjoy homemade and local produce in front of the roaring fire. With the minstrels gallery above, you can fancy yourself time-travelling to the Middle Ages. It's a cosy pace on a wintry or cold, rainy day.
Outside, you can stroll around the extensive formal gardens and enjoy quiet woodland walks. Don't miss an organised tour through the park to see the rare, wild white cattle.
Walks near Chillingham
There are some lovely walks just south of Chillingham in Hepburn Woods. We particularly like the scramble up to Ros Castle. This Iron Age hill fort has fantastic vistas across to the Cheviots. (Alternatively, you can drive up past Hepburn farm and park at the view spot).
Three miles further south is a walk from the sleepy hamlet of Old Bewick. A leisurely circular route passes Blawearie – the remains of a shepherd's cottage, with burial cists nearby. There is a gentle tranquility to this bleak, yet beautiful, windswept spot.
North of Chillingham, just outside of Chatton village, you can walk up to Chattonpark Hill. Another location with fine hill views and the chance to see wildlife, you can also search for prehistoric art in the form of cup and ring markings.
Where to Eat near Chillingham
The Percy Arms in Chatton serves superior pub food and is the perfect place to pause for lunch. Before you move on, Chatton Gallery, showcasing the work of renowned local artists, is worth a visit.
Northern Glendale Valley
A Tale of Two Villages: Ford & Etal
"A sweeter little village than Ford could hardly be imagined outside of Arcadia" [W. W. Tomlinson Comprehensive guide to Northumberland, 1888]
Ford and Etal are two villages that are under the ownership of the Joicey family estate. Ford is a quaintly appealing Victorian model village. You can easily spend an entire morning or afternoon exploring its architecture and woodland walks. Bike hire is also available at Ford Village Shop and cycling the tiny country lanes is a lovely way to explore.
On rainy days, gaze at pre-Raphaelite inspired frescoes inside Lady Waterford Hall. Or explore the eclectic antiques on offer at the Old Dairy – often featured in the BBC's Antique's Road Trip programme.
Etal has an unusual aesthetic for the area, with two neat rows of whitewashed and thatch-roofed cottages along its one main street. Visit the ruins of Etal Castle and saunter alongside the River Till.
Ford and Etal Estates are incredibly proactive in organising events within their locality. You will enjoy witnessing, (and you can't help feeling a part of), the strong community spirit that is clearly on display. Events run throughout the year, with seasonal highlights including the ScaryCrow Trail, (villagers get impressively competitive with their inventive Halloween garden displays), and the annual Christmas market.
Secret Gems: Attractions near Ford & Etal
Along the road between Ford and Etal villages, it's worth stopping off at Hay Farm to see their rare breed heavy Clydesdale horses, (and other farm animals), where heritage farm buildings and machinery are also on display.
Two minutes further along the road, Heatherslaw Mill on the banks of the River Till is Northumberland's only working mill. Enjoy the riverside scenery and the sight, sound and smell of flour grinding and bread baking. A trip on the Heatherslaw Light Railway offers a scenic short return journey through the countryside to Etal.
Other sites worth a visit include Flodden Battlefield, site of a bloody Scottish/English fight, where King James IV became the last monarch to die in battle. And Ford Moss nature reserve offers something more tranquil, with pleasant walks and plenty of wildlife. It is also worth seeking out the beautiful Routin Lynn waterfall – magically secluded within ancient woodland. From the falls, step out cross-country to Goatscrag Hill. You will find a Bronze Age site with prehistoric animal rock carvings, as well as cup and ring motifs. One particular panel of rock is said to be the largest example of prehistoric rock art in England.
Where to Eat near Ford & Etal
Etal's newly refurbished Black Bull serves fantastic food. Delicious local produce and home-baking is also on offer at Etal's Lavender tearooms.
The Old Dairy at Ford not only offers fascinating antiques but also fabulous coffee, scones and cakes. Lunches are served at weekends and you can even sip a glass of fizz whilst enjoying Cheviot views at the marble, outdoor champagne bar.
Heatherslaw and Hay Farm also have tearooms and take away services. Further afield, fantastic food is available at the Blue Bell Inn at Crookham, as well as the Red Lion and Cafe Maelmin (Milfield).
Where to Stay: Campsites in Glendale
Ford Bridge Campsite is a newly established site near Ford and Etal. We love this family-run site in the northern part of Glendale. It is easily accessible from the A697, but quiet and peaceful. There are lovely walks down to the River Till and views to the Cheviots.
In the southern part of Glendale, there are two campsites close to Chillingham and Chatton, both in tranquil spots with magnificent hill views. These are both 'certified locations' with the Caravan and Motorhome Club, so you need to be a club member to book there.
Alternatively, there are two campsites in nearby Wooler.